Expédition Rêve Blanc
Where the dream becomes reality
Expédition Rêve Blanc
---
Expédition Rêve Blanc is a sled dog company located in the Upper Laurentians, 230km north of Montreal, a region with a vast area of ​​forests and lakes, on the (true) Great North frontier.
We will share with you our passion for sled dogs and large white spaces, and we ensure total happiness throughout your dog sled ride.
Who are we ?
---
In 2012, Jeff and Nathy decided to pass the torch. After six years of complicity and work sharing, Thibault and Katia who worked for years with the sled dogs that you will encounter during your stay at Expédition Rêve Blanc, decided to unite their skills and are ready to welcome you to realize your dog sled dream.
After six years of complicity and sharing of work as employees of "Aventure Rêve Blanc", Thibault and Katia who worked from the beginning with the sled dogs decided in 2012 to join their skills to welcome you among them to realize your dream in sled dogs that you will meet during your stay at Expédition Rêve Blanc.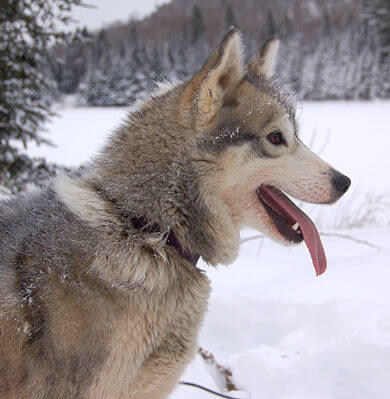 One of our stars
Sled dog
Un chien fidèle et courageux avec du cœur au ventre.
Expédition Rêve Blanc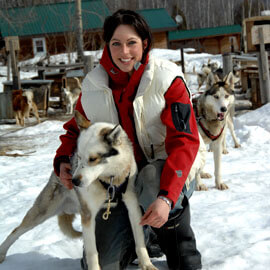 Katia B. Raymond
Guide / Co-owner
Amoureuse des chiens de traîneau et de plein air, elle participe activement à la vie du chenil. Elle sera également ravie de répondre à tous vos courriels et vos appels.
Expédition Rêve Blanc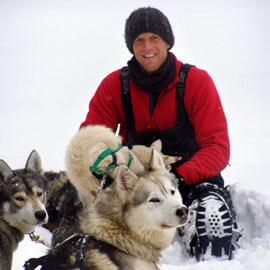 Thibault Gontier
Guide / Co-owner
Amateur de grands espaces et passionné de chiens de traîneau, il s'implique dans l'entretien de toutes les pistes (plus de 200 km de pistes en exclusivité), du matériel et voit au bien-être des chiens.
Expédition Rêve Blanc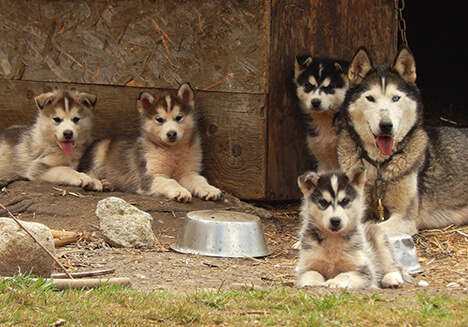 Futur stars
Baby sled dogs
Les petits qui prennent des forces.
Expédition Rêve Blanc
Learn more about Katia
Katia, native of Quebec and native of Mont-Laurier grew up in nature surrounded by animals. From an early age she convinces her parents to have a dog, chickens, ducks and rabbits. At the age of 13, she babysit to buy her first horse named Colonel. Of course a horse does not come alone, she brings home her horse and three goats … That's when she discovered Aventure Rêve Blanc (which has now become Expédition Rêve Blanc) and that it makes riding lessons. Around the age of 15, Katia spends her summers guiding her on horseback and caring for sled dogs.
From 18 to 23 years old she studied police techniques. She also completed a training course in Protection and Exploitation of Wildlife Areas (a job she still does in the summer while meeting the needs of dogs) and works at the White Dream in the summer to feed and maintain sled dogs and also guides dog sled rides in the winter.
At 23, after many years of visualizing the dream of having a passion for work, the " white dream " becomes a reality. Since she is more and more in love with dogs and outdoors, she is actively involved in the life of the kennel and the making of harnesses and sledges. She develops and personally cooks the main menus of the dog sled raids to the delight of the customers. She will also be happy to answer all your e-mails and your calls and especially she will know how to transmit you her passion when she will guide you on the tracks.
Learn more about Thibault
Thibault, native of France he grew up in Normandy on the seaside and already at that time he was in love with the great outdoors. A sportsman by nature, he loves running and European football. During his childhood Thibault is passionate about ornithology, flora and all possible wildlife.
After obtaining his baccalaureate, he carries out a certificate of agricultural technician in wildlife management, a certificate of superior technician in natural areas management and to finish a professional license in design and accompaniment in ecotourism. During his License Thibault must do an internship, he chooses to go abroad. At the age of 20, he arrives in Canada, for a first visit. In training at Aventure Rêve Blanc (today Expedition White Dream) as a guide in sled dogs , the charm of the Quebec territory, the love of sled dogs and the Canadian winter were enough to convince him to also do his summer internship with the horses at Rêve Blanc. Nearly a year of internship to discover the nature of Quebec, convinced Thibaut to return to work at Rêve Blanc the following year, and the other after and so on.
At age 25, well established in Quebec, passionate about sled dogs a little more each day Thibault made the leap and became the owner of the dogs he loves so much. In addition to being an exceptional guide, a fantastic wildlife and floral interpreter, you will find Thibault somewhere on the track maintaining it (more than 200 km of exclusive trails), in the middle of the kennel to ensure the well-being of each dog, to see their well-being or hidden in his workshop, busy repairing equipment (harnesses, niches, necklaces, sleds, etc.).
In sled dogs, you'll discover snow-covered trails, frozen lakes and rivers, blowing snow and snowstorms, blizzard and cold, but also the glittering sun, moonlight and sunsets… and especially this silence so much appreciated…
We will be proud to welcome you to our home, to guide you in our magical trails inside a majestic playground where all dog sled rides take place, the Papineau-Labelle Wildlife Sanctuary. We will introduce our sled dogs and we will be happy to share our dog sled passion with you.
Our pack of 140 sled dogs is waiting for you to discover their names, their personalities and their happiness. Come caress and encourage them and they will make you live this incredible dog sledding experience .
Your dream will come true with us, your hosts, Katia and Thibault.
« An excellent week in dogsledding. Thank you for giving us a taste of the joys of winter in Quebec.
My gloves always smell frozen steak after 2 washes, I'm not ready to forget the experience! Thank you also for your incredible welcome and your kindness, it feels like we really are part of the Expédition Rêve Blanc adventure and we quickly want to come back!
Expédition Rêve Blanc is a perfect organization, Katia's soup is delicious, the sled dogs are adorable and the guides to!
The scenery is breathtaking, and all that with the maximum comfort and the most incredible bacon and eggs of a lifetime. An experience to live! »
« Expédition Rêve Blanc is purely and simply the culmination of a dream come true thanks to the whole team: Katia, Thibault and Jessica. Expédition Rêve Blanc is beauty, calm, nature and especially love of dogs! Wish Expédition Rêve Blanc continues.
I advise everyone to come for dog sledding with Expédition Rêve Blanc! It's pure happiness!!!!
To do again and again. »
« Back from a 5-day dog ​​sled ride! Jessica made us live our childhood dream with ease! A musher of high aerobatics that combines smile sympathy and a hint of Mac Gyver! A Davy Crocket of modern times that proudly displays its organic side with a deep respect for nature, men and their best friends, dogs!
Let's talk about sled dogs, hairballs full of energy and love, all of them pulling the sled or asking and asking for hugs again.
In sum, we are "crissement" happy and "tabarouette" that was nice! In translation: We long to go back in sled dogs!»
« A big thank you for these magical dog sledding moments in the forest with you and the dogs. Everything was perfect! Despite the cold, it was pure happiness and on reflection, the cold was not so terrible to bear. I am delighted to have lived this experience.
Since we are back in the south of France, with warmer temperatures, we are missing dog sledding!
Kiss and see you soon! »